This temple is situated at Sukchar of 24th Pgs. (N) dist. Of West Bengal in India, just by the side of river Ganges. This is the one and only organization created by Bhabapagla. Though constructed after the passing away of Bhabapagla, yet it's trustee board was created by Bhabapagla.
At this temple goddess Kali has got the name 'Bhabar Bhabadara' from Bhabapagla himself. A beautiful image of Bhabapagla made of white stone, creates a sensation in the hearts of every devotees at the very first glance. Before some years of passing away, Bhabapagla chose this land for his heavenly purpose, when he came year for a picnic. Serenity is it's beauty. Swami Someshnanda Giri, the direct disciple of Bhaba, is the Principal Maharaj and In-Charge of this temple.
Swami Someshnanda Giri, generally known as Maharaj, has sacrificed his whole life at the service of Bhaba, his master. The moto of his life is to established the wish and order of Bhaba. Though born with blue blood, he has renounced the pomp and pleasure of his family life and has embraced the ascetic life of a Sanyasin. He got his initiation from Bhaba at his tender school life and from then on he was like the shadow of his master till the nick of time of bhaba. Bhaba wanted to stay at the bank of river Ganges for eternity. That's why ignoring the shortage of accounts, Maharaj is trying to create and abode of peace.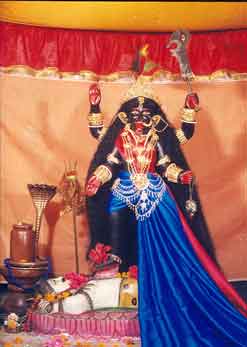 Goddess Bhabadara
There is another ashram just adjacent to this, specially for women named 'Bhabar Mahashaktir Pagli Maar Snehasray'. Here Bhabar Radha –Maa is the In-Charge. She is also direct disciple of Bhabapagla. This ashram has been named after the name of the wife of Bhaba, generally called as 'Pagli-Maa'. Pagli-Maa was indeed an incarnation of the mother hood.
Bhabapagla ordered this ashram to serve for the upliftment of mankind, and now it is serving for the people accordingly
Charitable dispensary

A school of songs (songs of Bhabapagla, Nazrul, Classical etc.)

Free eye test and provision of spectacles every month

Free books and dresses for needy student

Educational and sheltering support for destitute orphans

A school for art and culture
All the donation given by the disciples and devotees will get the exemption of Income Tax by 80G.
Ashram celebrates 45 to 50 occasions through out the year - annual festival of Maa-Bhabadara on the last Saturday of the Bangali month Falgum(middle of March), Religious Conferences ,Durgapuja, Saints Meet, Guru purnima are some such occasions where people can have the feeling of heavenly joy at the ashram. This 'Ashram' is in its true sense, of the term, the actual home for peace and rest far away from the din and bustle of every day routine-bound life.